Marketing Automation is on its way to the peak of the hype cycle. People start adopting software because it's cool, not because they know what to do with it. The result: inflated expectations.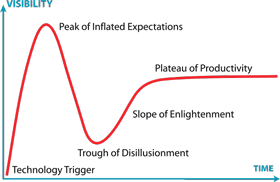 However, there are a couple of B2B Marketing experts who understand how to avoid inflated expectations. One of them is Megan Heuer of SiriusDecisions. Together with Craig Rosenberg (aka The Funnelholic) of Tippit she presented a webinar called The 9 Metrics Every Marketer Must Track. This webinar shows how to focus on the correct metrics rather than on gimmicks.
My recommendation: use your Marketing Automation project to improve these 9 metrics and you have a good chance of avoiding disillusionment (and pleasing your CEO).
Key Performance Indicators
Some long-standing VPs of Marketing seem the best marketers of their own performance: by staying vague about results and telling a good story they can hold on to their jobs for quite a while. However, the truly effective VPs of Marketing promote transparency and have an intense focus on improving the few metrics that matter. The strongest metrics show how marketing contributes to bottom-line revenue.
In the webinar, Megan mentions the following key performance indicators:
marketing sourced pipeline
marketing influenced pipeline
investment-to-pipeline
investment-to-revenue
The first two focus on the influence of marketing on the sales pipeline, and the last two give an indication of the ROI. Obviously, #4 (investment to revenue) is also dependent on the performance of the sales team (whether they are effective in closing deals). You can watch the webinar to get benchmark figures for these KPIs.
Key Metrics
Updates to the KPIs from the previous paragraph take some time to show up, because inquiries first need to turn into opportunities. Megan suggests 5 metrics to keep an eye on this process. These metrics are starting to get broader adoption, so I encourage everyone to standardize on these stages:
Measure Inquiries
Marketing-qualified leads (MQL), definition should be established together with sales
sales accepted leads (SAL), formally accepted by sales
sales qualified leads (SQL), evolved into an opportunity
closed/won business
An inquiry could be any new lead, also someone who dropped off his business card at a tradeshow, or a download of a whitepaper. An MQL is also called a sales-ready lead. Usually some kind of Lead Scoring is used to determine whether a lead is ready to be passed on to sales. For more details and benchmarks, watch the webinar.
The cool thing about these metrics is that you can update them more frequently, so you know immediately whether you are on the right track. This is your Lead Management Thermometer!
How Does Marketing Automation Fit Into This?
Marketing Automation is a tool. It's supposed to improve business results. In my previous post, I suggested to look only at increased revenue to measure success of Marketing Automation. These metrics are a great way to see if you're on track.
More practical: how does Marketing Automation influence these metrics? Just some examples: continued lead nurturing turns more inquiries into sales-ready leads; lead scoring shows when leads are sales-ready; lead scoring gives quick feedback on the quality of various lead generation programs. But ultimately, the features of the Marketing Automation are only valuable when they are used well, and improve the above-mentioned metrics.
What is your favorite Marketing Automation metrics? Let me know in a comment…