IMPORTANT: Please read my new Hubspot Review, published in July 2010. The review below is outdated.
Hubspot is the market leader in the category they invented: inbound marketing systems. They should be pleased with this link, because they teach their customers to ask other websites for links to their website, using the term that potential customers type into Google. Hubspot offers a combination of a hosted software platform and best practices. The software shows how to optimize your site for certain keywords, and how you fare against your competitor's websites. The best practices include tips, such as the one above: Google ranks your site higher for keywords that others use to link to your site.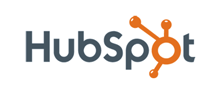 What I like about their offering is the simple packaging: you have the small company package for $250 per month, and the larger company offering for $500 (called 'Marketer'). As a small company you have to use their content management system, and as a larger company you will use your own website (you just include some tags in the source of your site). Also, this 'Marketer' version includes integration with Salesforce.com for closed loop reporting: in other words, it will show which Google keywords result in how much revenue.
Their philosophy is that search engine optimization is a better investment than pay-per-click advertising: over time you will only get more traffic, and it doesn't cost you anything. With PPC, whenever you want more traffic you have to pay more. And if a new competitor enters the market, they will drive up the price for the keywords that used to be cheap. However, PPC is great to get attention for time-sensitive events. Because SEO takes time: if you have a seminar in two weeks, PPC can start promotion right away, but by the time you have a good organic search engine ranking, the event has already taken place. But for less time-sensitive information, SEO will definitely pay off.
I'm fairly sure that Hubspot provides tremendous value to companies who've never optimized their site. For my company I've already applied several SEO best practices, and we have a decent page rank (6). So for us the benefits are less clear. However, hiring a company to outsource SEO optimization is even more expensive, so I may give Hubspot a try: their contract is month-to-month, so if it doesn't work I can cancel at any time. I'll also look at some other vendors such as Raven SEO and Spyfu, because I don't know how those compare. If you know more about Raven or Spyfu, please leave a comment.
IMPORTANT: Please read my new Hubspot Review, published in July 2010. The review above is outdated.